Get to know Dr. Alexis Masbou, a new face to the Kofinas Fertility Group team--whose wealth of experience and knowledge we do not take for granted. Read more about her education and passions in the field of fertility.

Dr. Alexis Masbou, whose first name actually means "helper of mankind", comes to Kofinas Fertility Group with a wealth of knowledge and experience in the Reproductive Endocrinology and Infertility field. When Dr. Masbou is 'off the clock', she enjoys traveling and the chance to immerse herself in other cultures, as well as watching and playing sports.
You can meet Dr. Masbou at our Central Park West, Midtown, and Brooklyn facilities, and read about her below:
Why did you choose to go into fertility as a profession?
"I have always been an advocate for women's health and women's issues, only bolstered by my high school education at a local all-girls high school with a focus on service and social justice. When I was considering medical school, I knew I wanted to practice obstetrics and gynecology, but I wasn't sure where I should focus my energy and where I could most be of service.
I decided to volunteer at Planned Parenthood and at the same time I began conducting research at an IVF lab at Johns Hopkins Hospital. It was during this summer where I encountered my first doctor-patient visit, and as fate would have it, I joined a reproductive endocrinologist counseling a couple on their fertility options.
I was inspired by this physician's ability to help a couple plan to become a family, aided by the microscopic miracles being performed in the embryology lab. I was touched by the special bond such physicians shared with their patients. And, in terms of the science, I was hooked."
What are common challenges you see women and families facing today in fertility?
"We frequently observe that families are being started later in life, with many women facing diminished ovarian reserve or difficulty conceiving when they are ready to begin a family. Part of the reason this has been an issue is that fertility had not been in the forefront of healthcare or addressed at routine visits with primary care physicians or even general gynecologists. Hopefully this trend will change as more women's health advocates are stepping forward to bring reproductive choice, options, and personal experiences to light.

Other challenges that patients face today include limited fertility benefits in most insurance plans, a myriad of fertility myths circulating on the internet, and there is still the stigma associated with needing fertility assistance."
How do you approach finding a right-fit approach for people with diverse challenges in fertility?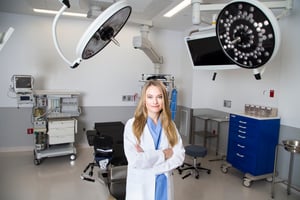 "I honestly see all of my patients as unique individuals, however I am able to draw upon my experiences with former patients whom I have learned from during my many years of training.
Aside from applying the various lessons my mentors and patients have instilled, the most important thing I can do is to listen to my patients – in this way we can arrive at the best plan together and embark on this journey as allies."
Do you have any particularly proud moments of your career so far?
"Being a medical student, resident, fellow and now attending physician, I have been privileged to help a myriad of families and individuals. I have brought life into this world, and I have been honored to hold the hands of patients during their most vulnerable times.
I have challenged myself along the course of my medical training, and all of these experiences have made me the person and doctor I am today. To isolate any one event is very difficult as I am extremely proud of where I am today, the people whose lives I have touched, and who have, in turn, taught me."
Do you focus on a specific area of patient care?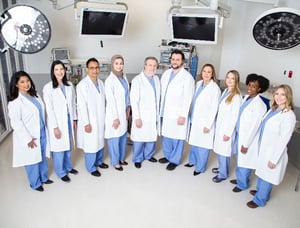 "My extensive training and continued education at Kofinas Fertility Group have made me a well-rounded physician dedicated to life-long learning, however I believe we are only beginning to understand the complex effects of endometriosis and immunology on fertility. By being innovators in these two areas of reproductive endocrinology and infertility, we have much to offer any patient who has had difficulty conceiving on their own or at other centers that might not have the same experiences as we have had.
I also feel comfortable helping patients preserve fertility who have recently been diagnosed with cancer, and our premier embryology team helps me offer our patients the best care possible. We have cared for many patients under many circumstances and are more than comfortable assisting all types of patients with our extensive experience."
Kofinas Fertility Group is fortunate to have knowledgeable and kind physicians like Dr. Alexis Masbou on our staff. To meet with the Kofinas team and get the answers you've been searching for in your fertility journey, feel free to give us a call or schedule an appointment.