Ovarian Tissue Cryopreservation (OTC)
What is Ovarian Tissue Cryopreservation?
---
Ovarian tissue freezing or Ovarian Tissue Cryopreservation (OTC) was first developed over two decades ago. This new technology allows your doctor to freeze ovarian tissue containing thousands of immature eggs before you begin cancer treatment. This way, when treatment is complete and you're ready, your ovarian tissue can be transplanted back into your body allowing you to regain full ovarian function, including fertility.
It is a way to not only preserve fertility for women or prepubescent girls facing gonadotoxic (fertility damaging) treatment, but any female wanting to preserve more than just a few eggs. It can also help females to regain their reproductive health and endocrine function. Compared to egg freezing, which typically takes at least two weeks and yields an average of 8-14 eggs, we can now freeze thousands of eggs in a single sample of ovarian tissue. This medical breakthrough greatly increases your chances of achieving pregnancy when you are ready and even gives women the opportunity to conceive spontaneously without IVF.
How It Works
Females are born with all the eggs they will ever have stored in the cortex (outer layer) of their ovaries. For many women and girls facing medical diagnoses such as cancer or undergoing necessary treatments like chemotherapy and radiation can harm long term fertility and reproductive health. These treatments can lead to an early menopause referred to as POI (premature ovarian insufficiency). Certain genetic disorders like Turner syndrome, sickle cell anemia, thalassemia, and galactosemia as well as autoimmune diseases requiring bone marrow transplantation can also cause POI.
This new technology allows your doctor to freeze this tissue containing thousands of immature eggs before you begin any treatment that could affect reproductive function. This way, when treatment is complete and you're ready, your ovarian tissue can be transplanted back into your body allowing you to regain ovarian function, including fertility. It can be stored for many years until the patient is ready to use the tissue.
Successful Transplatations
Today, thousands of women have already undergone this procedure to preserve their ovarian t
This medical breakthrough greatly increases a patient's chance of achieving pregnancy when they're ready and even gives women the opportunity to conceive spontaneously without IVF.
How is Ovarian Tissue Cryopreservation different from other forms?
---
When it comes to reproductive cryopreservation, it has traditionally been all about eggs and sperm. You can freeze your eggs and sperm through a rapid freezing technique called vitrification. Vitrification is an effective technology that rapidly cools eggs or sperm without the damaging effects of any ice crystals forming. Your cells are fully immersed in liquid nitrogen, maintaining their cellular integrity for the duration of the time frozen. This method of freezing is highly effective for embryo and egg freezing but is not the preferred method for ovarian tissue freezing. The preferred method for ovarian tissue freezing is a computer-controlled slow freezing method which has proven to be the most successful method for ovarian tissue freezing. Attempts to freeze ovarian tissue by the rapid vitrification technique so far have failed to deliver results comparable to the slow computer-controlled tissue freezing technique.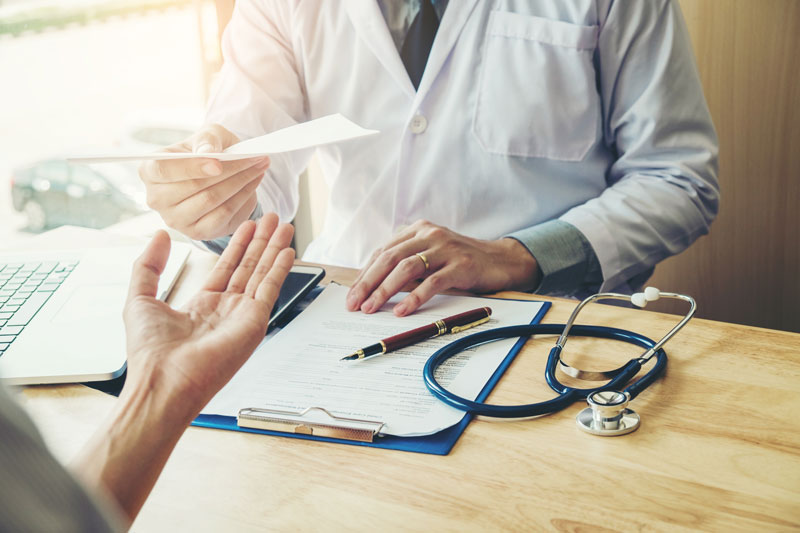 What to expect before and during the process
---
Ovarian tissue cryopreservation is performed in order to preserve the fertility of the patient by the removal of ovarian tissue of one or both ovaries for freezing. Once the patient completes cancer treatment and is ready to build a family, we can transplant the frozen tissue back into the body. The frozen tissue for transplantation will function just like a normal ovary once back in the body, producing all the hormones and eggs, restoring normal ovulatory function, fertility, and menstrual periods.
Since the timeline is of the utmost importance for this procedure, here's a breakdown of what it looks like.
6 Steps to an Ovarian Tissue Cryopreservation Procedure
Patient schedules quick appointment with Kofinas Fertility.
Once the Oncologist informs the patient or the patient's family about the procedure and is interested, the patient or Oncology office can then get in touch with Kofinas Fertility Group's dedicated Ovarian Tissue Cryopreservation Program via call or email. Once the request is received, an appointment can be scheduled for the same day or within 24 hours.
An expedited consultation will include all necessary preparation for surgery.
Kofinas Fertility Group has a dedicated program for this procedure and gives these patients top priority. The initial consultation for this procedure has an expedited time frame in which it will occur. It will consist of a complete health history including the records from the Oncologist, taking blood specimens for pre-operative purposes, and scheduling the surgery as early as the next day. Due to the emergent timeline, this procedure does not require any special preparation on the patient's part prior to surgery.
Arrive for surgery at the best reproductive surgery center, Manhattan Reproductive Surgery Center.
The surgical procedure will take place at Kofinas Fertility Group's dedicated surgery center, Manhattan Reproductive Surgery Center. Manhattan Reproductive Surgery Center (MRSC) is the first fully licensed surgical facility solely focused on reproductive care in the state of New York. The facility itself is conveniently located in lower Manhattan on 65 Broadway's 21st floor, the same building as Kofinas Fertility Group's headquarters. Because MRSC is closely affiliated with the Kofinas Fertility Group, your care will be seamless and the standard of surgical care received is the best that New York has to offer.
A minimally invasive incision is made to remove ovarian tissue.
The procedure itself will consist of the ovarian tissue, ovary, or ovaries being removed by a minimally invasive laparoscopy through a tiny incision on the abdominal wall. The amount of tissue removed depends on how much tissue is needed according to the age of the patient and what form of cancer treatment is required. The amount of tissue is also taken according to how much will be needed to re-implant back into the patient to restore normal reproductive function and fertility. This will be discussed by your surgeon so that you are fully informed prior to the procedure.
After the hour-long procedure, ovarian tissue is processed and quickly frozen.
The duration of the procedure will also depend on how much tissue is required to cryopreserve (freeze), but is typically a one hour procedure. The tissue is then processed for freezing within 30 seconds after removal. The processing and preparation of freezing the tissue happens immediately because the MRSC operating rooms have a direct pass-through window to Kofinas Fertility Group's dedicated Ovarian Tissue Cryopreservation laboratory where the tissue will be preserved and stored.
Immediate freezing preserves the viability of the ovarian tissue and the greater the number of oocytes (eggs) that survive the freezing and eventual thawing for re-implantation.

Patient recovery is monitored before being released to go home the same day.
Once the procedure is complete, the patient will be monitored in our post-operative recovery bay for 1-2 hours. This is an outpatient procedure so the patient is able to go home the same day. Recovery looks different for everyone, but patients are typically ambulatory (able to move around) as soon as the next day after the procedure.
Currently, OTC is the only method of fertility preservation available for prepubescent girls (girls who have not yet started their menstrual period). With the likelihood of surviving pediatric cancer on the rise, now around 80%, it is important to think about quality of life after treatment and if having biological children could be important later on. With chemotherapy and radiation causing girls to be at a high risk of POI (premature ovarian insufficiency), OTC will be their only opportunity to have a biological child later in life. Egg freezing won't be an option for prepubescent girls since their ovaries are not yet developed or capable of releasing mature eggs. Parents should take this into consideration and talk to their child to help them make this important decision.
Women wanting to preserve their future fertility due to any medical condition or treatment that could impact their fertility and reproductive function should consider OTC. Especially those who need to start cancer treatment urgently and don't have the time it takes to go through an egg freezing cycle. Undergoing the OTC procedure guarantees far greater chances of conceiving later on while allowing you to receive necessary treatments without delay. Egg freezing is still a very good option for those faced with a cancer diagnosis, but the timeline for egg freezing is longer by 2-3 weeks for one cycle. Due to the pending cancer treatment timeline, those who choose to freeze their eggs rather than ovarian tissue will only be able to go through one cycle of egg freezing, yielding an average of eggs far less than that of ovarian tissue.
Women considering egg freezing without a cancer diagnosis may need to freeze their eggs in multiple cycles due to the unpredictable amount of eggs that will mature with stimulating hormones. Freezing your ovarian tissue minimizes this time from 2-3 weeks down to less than one week. Many women are now choosing OTC rather than egg freezing simply because egg freezing can't give a guarantee of the number or quality of eggs you will end up with.
Even if fertility is not on your mind now, it is important to discuss with your doctor before starting cancer treatment.

Why New York's Kofinas Fertility Group is the best at Ovarian Tissue Cryopreservation
---
Kofinas Fertility Group prides itself on being at the leading edge of reproductive advancements with over three decades of experience yielding very high success rates and including the establishment of the first ambulatory surgery center dedicated to reproductive care in New York. Adding Ovarian Tissue Cryopreservation to the existing list of already comprehensive services offered was a natural and necessary step to providing the best possible reproductive care in New York. Our state-of-the-art facilities made it all possible to bring this program in-house. We are proud to be one of the few facilities in the United States that offers this procedure all under one roof. At Kofinas Fertility, we have a dedicated team just for the patients who need this procedure the most. Our Ovarian Tissue Cryopreservation Program works with your Oncology team every step of the way to ensure that your immediate health is taken care of with no delays and that your future fertility is preserved for when the time is right for you or your child to start a family.
A successful ovarian tissue freezing program demands expert surgeons, experienced tissue freezing laboratory technicians, modern, state of the art, properly equipped with special equipment and instrumentation facilities, such as operating rooms and tissue freezing laboratories with expertise and experience in fertility preservation procedures. The experienced surgeons of Kofinas Fertility Group have developed their own special surgical techniques for ovarian tissue harvesting and ovarian tissue transplantation. The senior technicians at the Kofinas Fertility Group IVF laboratory, with decades of experience in fertility cryopreservation (egg, embryo, and sperm freezing), were trained in ovarian tissue cryopreservation by the world pioneers of these techniques in Copenhagen, Denmark in 2014. Since their training in Denmark, our team is in close contact and cooperation with the Danish team which was also actively involved and advised us during the planning and development of our ultramodern ovarian tissue cryopreservation program. The program is located at the headquarters of the Kofinas Fertility Group at 65 Broadway, Financial District in New York City. Design and construction of the surgical suits and the laboratories was geared towards the development of the ovarian cryopreservation program.
Hear From Others Who Have Found Success
"I felt very at ease with the doctors and felt like any question I had was answered. I'm so glad we chose Kofinas with the future of our family."
J.M.
Hear From Others Who Have Found Success
"The facility was good- well equipped and great doctors. Only thing was it was a bit far from my home to come there almost every week and sometimes even every day. The nurses and staff were very friendly and helpful. Dr. Melissa Montes was especially good as she would clearly explain what was going on which was a big stress reliever for us at that time."
Dezina S
Hear From Others Who Have Found Success
"It was a wonderful experience with Kofinas. Even when I had doubts and fear within me , the nurses and doctors reassure me of the possibility of becoming a mom. I am glad I have my healthy twins. Thank you team Kofinas."
Omobolanle T
More to Explore in Kofinas Blog
Knowledge is a powerful tool to give you agency and confidence as you go through your journey. Here are some resources to help you along the way.
Request An Appointment
Request An Appointment