Meet Dr. Peter Brzechffa, Kofinas Fertility Group's approachable associate director.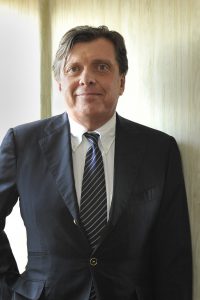 Peter Brzechffa (BRESH – fuh), MD, FACOG is an active family man and the associate director of Kofinas Fertility Group in New York. Interpersonal connection is a big deal for Dr. Brzechffa, and even after over 20 years in fertility care, he still cherishes every minute that he spends with the people he treats.
Dr. Brzechffa, in his own words…
"Interacting with my patients and giving them success after years of failure is a constant source of joy and gratification for me. The nature of fertility care is that nothing is certain, and we're all on this crazy, emotional journey together. While the path to a healthy child may take some unexpected turns, perseverance driven by a strong motivation to succeed can lead to some truly wonderful outcomes. And seeing the smile on each person's face when our effort pays off is a special moment that I thoroughly enjoy.
"One of my original attractions to fertility care was the unique combination of both medical and surgical practice. There's often a great deal of face-to-face clinical work to be done along with the complex surgical challenges to overcome. Being able to meet your needs, no matter what they are, and stay with you through your entire treatment experience is immensely satisfying to me. Additionally, fertility medicine is a very new and exciting specialty, and the possibility of making big contributions to the field was as appealing to me when I started as it is today.
"In general, I'm very mellow. You can talk to me without feeling intimidated, and I always have time for your questions and concerns. Your comfort throughout your fertility experience is of the utmost importance to me personally and to your overall treatment success, and I've crafted my entire practice style around that feeling."
Board-Certified: Obstetrics & Gynecology
Fellow: American College of Obstetrics & Gynecology
Fellowships: Reproductive Endocrinology and Infertility, UCLA School of Medicine, Los Angeles, CA
Residency: Obstetrics and Gynecology, University of Arizona, Tucson, AZ
Internship: Obstetrics and Gynecology, University of Arizona, Tucson, AZ
MD: UCLA School of Medicine, Los Angeles, CA
BA: Biology, Highest Honors, Phi Beta Kappa, Rutgers University, New Brunswick, NJ
Member: American Society of Reproductive Medicine
Leadership positions: Associate Director of Kofinas Fertility Group
For more information about Dr. Brzechffa, or to schedule an appointment, call 718-736-2218. You can also request an appointment using our easy online form. Dr. Brzechffa is available for consultation at our Brooklyn and Statin Island locations.