Meet Dr. Jason Kofinas, the fertility specialist New Yorkers love.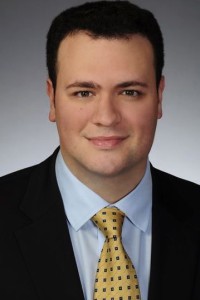 Jason Kofinas, MD, FACOG has a strong passion for people and a talent for designing custom treatment plans to match your individual goals and lifestyle. Always working hard to be attentive, thoughtful and responsive, our staff, doctors and patients love his deep dedication to fertility medicine.
Dr. Kofinas, in his own words…
"The opportunity to give the gift of a child is the primary reason — among many — that I chose to become a fertility doctor. The field of fertility medicine is complex and filled with emotion. It's my job to give you the very best care that I can while ensuring that you understand the reasoning behind every step of your care. I put a great deal of effort into making you feel considered and valued as an individual throughout the entire process.
"It's an exciting time to be a fertility doctor. New technology has allowed us to give babies to people with astonishing rates of success, and I find the clinical care itself to be very fulfilling. This field is also challenging, and I must push myself to constantly learn and improve in order to give my best to every person I treat. But the challenge of fertility medicine is why I love my work, and being able to give someone a child after years of trying is an indescribable feeling.
"Ultimately, my goals and those of my patients completely overlap. I want to give them the child of their dreams, and I will always take the time to listen to their exact needs in order to accomplish that."
Board-Certified: Obstetrics and Gynecology, Reproductive Endocrinology and Infertility
Fellow: American College of Obstetricians and Gynecologists
Fellowships: Reproductive Endocrinology and Infertility, New York University Medical Center, New York, NY
Residency: Obstetrics and Gynecology, Weill Cornell Medical Center, New York, NY
MD: With Honors, George Washington University, Washington, DC
BA: Economics, Magna Cum Laude, Phi Beta Kappa, George Washington University, Washington, DC
Member: American Society of Reproductive Medicine, Society of Reproductive Surgeons, American Association of Gynecologic Laparoscopists, American Medical Association, Society of Reproductive Surgeons
For more information about Dr. Kofinas, or to schedule an appointment, call 718-736-2218. You can also schedule an appointment using our easy online form. Dr. Kofinas is available for consultation at our Brooklyn and Manhattan locations. Read more reviews about Dr. Jason Kofinas here.