If you're considering IVF as your fertility treatment procedure, you may have felt the ups and downs that often come with an infertility journey. But now, you're ready for a positive, supportive outlook from a team that guides hopeful parents through IVF every day.
As you're researching the tips, timelines, and stories of women who came before you, we hope this post is a reassuring and realistic resource for you!
First Things First: Consultation and Testing
Expert fertility teams know that the first, most crucial step in any approach to helping you have a healthy pregnancy is to get an accurate picture of your current fertility struggles.
As you begin working with a specialist, they should guide you in an initial consultation and a testing panel customized to a few things:
your overall health history, and that of your partner
your past fertility journey (previous pregnancies, miscarriages, and the length of time you've been trying to conceive naturally)
if applicable, any fertility treatments you've tried
The purpose behind thorough testing is to uncover any root infertility causes and make sure your doctors have a full understanding of which treatment options to pursue.
Once this step is complete, each person's next steps are different. Your doctor might recommend other fertility treatment options before considering IVF.
If those were unsuccessful, but you're still in an ideal time in your life to get pregnant as soon as possible, you are likely ready to take the first step in the timeline below:
The IVF Timeline
The start of a conception timeline is different for everyone because it depends on the "timeline" of your body--your cycle!
Depending on where you are in your cycle after your consultation and testing are complete, your doctor will recommend a specific time frame for you to undergo a preparatory process for your eggs called ovulation induction. This involves using fertility medication to stimulate the growth of multiple egg follicles in the ovaries.
After a few weeks of stimulation, you'll meet with your fertility specialist for the egg retrieval process--extracting the mature eggs and preparing them for insemination. After the egg retrieval, the semen sample is then retrieved from the male partner or donor and is combined with the mature eggs to begin the fertilization process. The eggs are then fertilized in a laboratory, and the embryos are monitored daily to ensure optimal development before being transferred to the uterus.
The final step for in vitro fertilization is the embryo transfer to the uterus. Using an embryo transfer catheter, your specialist will transfer one embryo in this phase to provide the best chances for impregnation. (In the past, many fertility experts used multiple embryo transfers, using more than one embryo in this step--but Kofinas Fertility Group, and many other industry leaders, are now recommending single embryo transfers.)
A few weeks after the transfer, we recommend a pregnancy test by taking a blood test in your specialist's office or an at-home pregnancy test.
You can see these steps outlined in more detail in our IVF timeline below: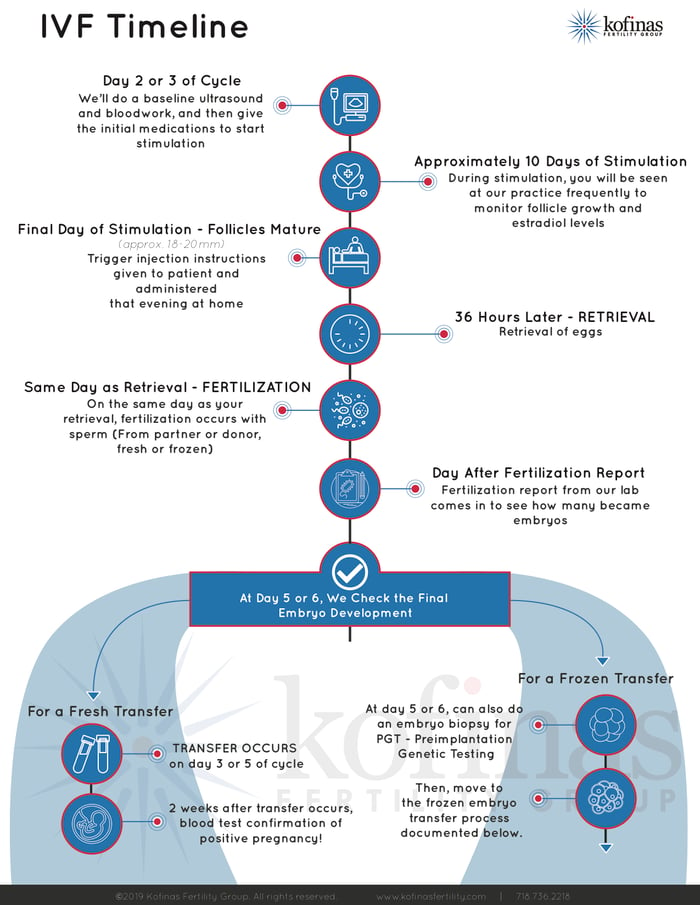 Your Next Steps
Fertility specialists at Kofinas Fertility Group are here to guide you through the trials and tribulations that come along with starting the family of your dreams. Whenever you're ready to take the next step in your journey to a successful pregnancy, know that you have the right guidance that will allow you to get there with confidence.
If you're interested in learning more about IVF treatments and what your potential timeline could look like now, let's talk.